Homepage

Screenshots

Download

Compatibility

Basic knowledge

Trouble Shooter

Help

Links

FsEffects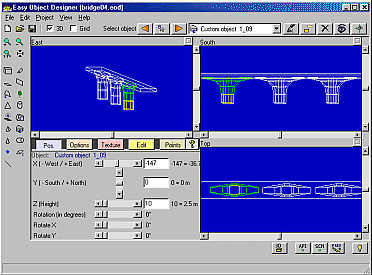 Create 3D objects for FlightSimulator...

News
EOD version 2.2.85 is available. With this update it is now possible to select "no shading" for objects, which is very useful for trees. It is probably also the last release because I do not have enough time to continue with the development of EOD.
An alternative to EOD is gMax, which more powerful and up-to-date, but has a steeper learning curve.


Use the EOD Trouble Shooter to solve problems with EOD.



What is EOD?
EOD is a freeware program which allows you to create 3D objects for Microsoft FlightSimulator.

You can put a cube and a roof object together, choose the textures and your house is finished. EOD can save your work as an API file for the scenery design program "Airport".
Have a look at the compatibility page to see a full list of the compatible programs.